Bellabeat "Leaf" Activity Monitor
Track you Activities with "Bellabeat Leaf" Smart Jewelry

Bellabeat Leaf Review
Bellabeat Leaf is piece of smart wearable jewelry that monitors your fitness metrics or standard daily activities, sleep quality, stress levels and even reproductive cycle. Made for Women, this leaf shaped piece of technology can be worn as a pendant, bracelet, necklace or brooch, making it perfect piece of jewelry for every occasion.  It is made out metal & wood at has amazing leaf overlay. Leaf comes with an App which will guide you how to change your lifestyle.
The Leaf is to be used throughout the day, and as you use it more often it becomes smarter and smarter by learning your personal habits. Activity level throughout the day will then trigger feedback (in form of slight vibrations), notifying you to increase or decrease activity, get more sleep or just to relax. Also, it is one of a few monitors that tracks stress, and it does it by one simple but very efficient method – tracks breathing and uses it as proxy for stress levels). It will fill a need in your life!
The Leaf comes packaged with a necklace chain, but you do not need to use it as can be can added to existing jewelery. Complete package includes a  battery, which is standard battery that every watch uses,  so there is no need to charge it on a daily basis. Battery should be changed after approx. 6 months, according to Bellabeat statement.
Availability: 2nd Batch sold 95%, shipping starts on July 4, 2015.

Recommended: YES.
---
Bellabeat "Leaf" Features
---
Female Wearable you wouldn`t mind wearing!
Stress Tracking
By monitoring your breathing, Leaf teaches you to calm your mind and reduce your stress by taking you through a series of breathing exercises, which you can visualize using the accompanying app.
The LEAF is there when you need to refocus and calm your mind as it guides you through goal-oriented breathing exercises that allow you to take control of stressful situations.
Did you know the way you breathe can change the way you feel?
Taking a deep breath can help you relax, but taking a couple of right, guided breaths can help you do so much more. If you breathe right, you can transform the "wrong foot" day into the best day ever!
Activity Monitor
The LEAF's innovative smart alarm can be set to vibrate based on your preferences and goals, allowing you to get the right amount of activity for your healthy lifestyle.
Hydration Monitor
Are you drinking enough water? We all forget sometimes (or all the time), but with the LEAF, you can change that as well! Besides its sleep and activity tracker and buitin breathing exercises that help you cope with stress, the LEAF has a smart alarm feature you can use to remind you of important things that sometimes slip your mind…
Nutrition Monitor
If you eat poorly, food with too much sugar, eat at weird hours or a lot more food than you should, which are some of the most important things to avoid to keep health, then Leaf is product for you. Also, we recommend TOP10 Tips to Successful Fat Loss.
Sleep Quality Monitor
The LEAF tracks your sleep patterns, revealing the quantity and quality of your sleep. This data is used to suggest slight or significant changes that help you focus, regain energy and feel good throughout the day.
Period Tracking
Get notifications and get ready for cycles. Understanding your monthly cycles has never been easier. View your ovulation, premenstrual, and period days at a glance, and gain an understanding of how other aspects of your health are affected during those days of the month.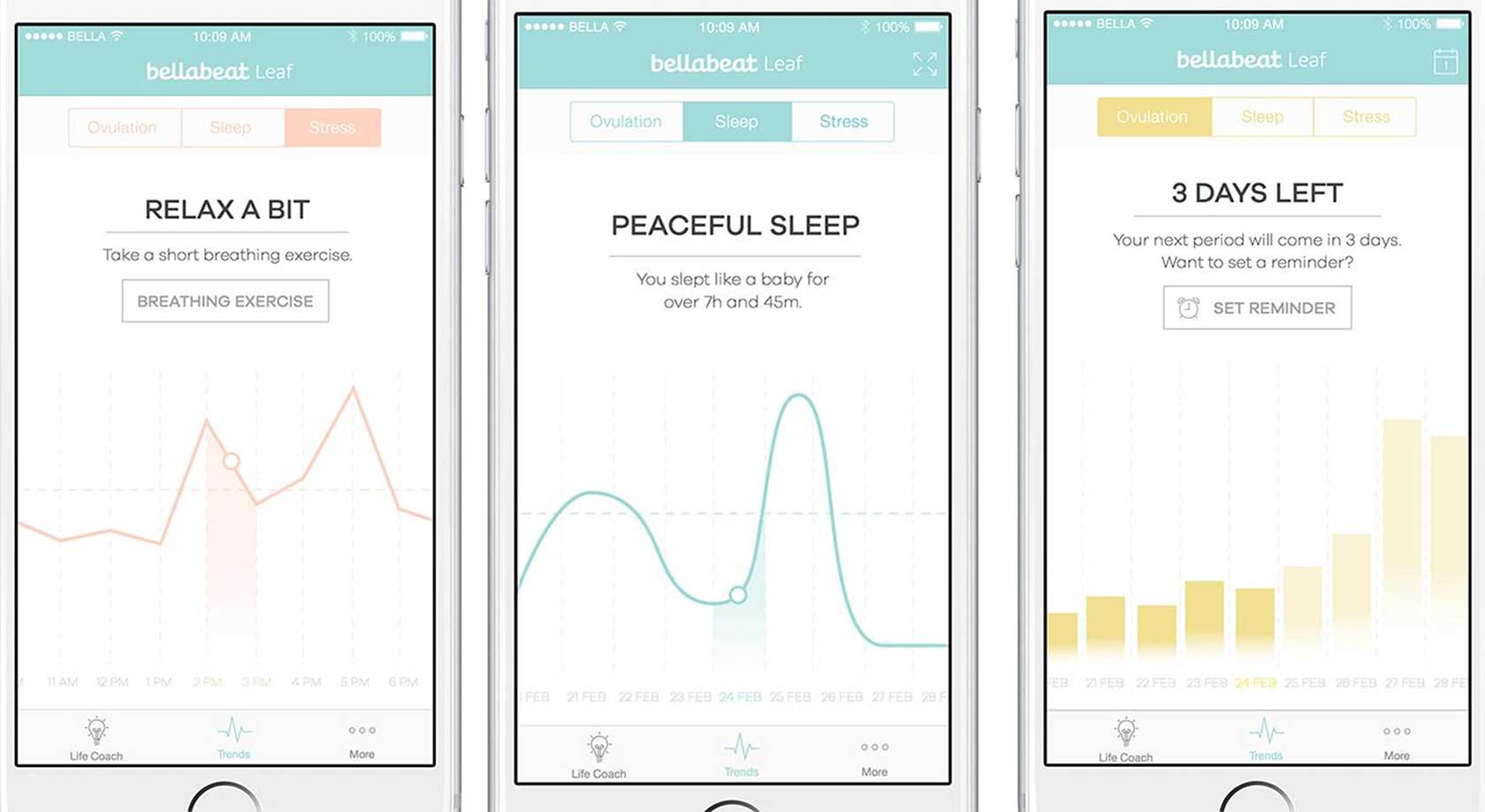 Who should use Bellabeat Leaf?
---
Made by women and for women, Leaf is your perfect activity tracker.
Unlike some smart wearables which mostly come in form of  plastic y-bands that make them look more like sports watches, and less prestige, made the Leaf first which you would like to use everyday.
Leaf is made of recyclable European wood and steel.
---
Who is BellaBeat?
---
Belabeat has been Slovenian/Croatia startup
Bellabeat, now a team of 25 based in Mountain View, California and Zagreb, Croatia, previously raised $4.5 million from a range of investors including SVAngel, CrunchFund, Nicolas Berggruen and others…
Bellabeat co-founder and COO Urška Sršen says that conversations with her mother, an OBGYN, actually prompted the idea for the company.
"Doctors have been talking about remote patient monitoring systems for a long time for preventative patient care," explains Sršen.
But the team, which also includes co-founder and CEO Sandro Mur, quickly realized that it was hard to get doctors to trust a new company and product, which is why they initially went the consumer route.
Future plans to expand benefits and features of Leaf
The hope is to grow a strong consumer user base, then return to doctors and other care providers to show them how they can benefit, along with their patients, from Bellabeat's system. Leaf only shows that wearables have a huge product/market fit outside of fitness and activity tracking alone, while focusing on women who tend to care about health.